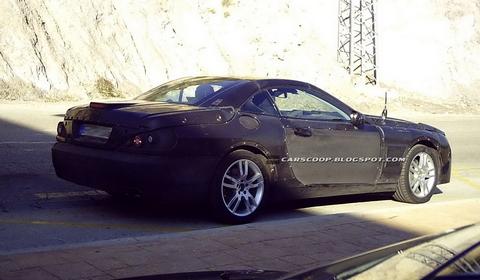 Mercedes-Benz engineers are testing a number of new vehicles. After seeing spyshots of the next-generation S-Class and C-Class Coupé AMG the 2012 SL Roadster was now spotted while road testing in Spain.
The Mercedes-Benz team took it rather seriously, as they were out with a convoy of camouflashed SL prototypes, which were accompanied by several other products from Stuttgart, such as the current generation SL hardtop roadster model.
Although Mercedes has done its best to disguise the SL by covering it with tons of black tape, we can see that the new generation model keeps its predecessor's two-piece folding hard top. The 2012 SL roadster will come with a more aggresive looking front grill.
Information regarding the engine are still secret, but buyers can expect a entry-level V6 and the usual line-up of V8 units including the newly developed 5.5 liter bi-turbo V8 for the AMG model. Or shall we see the 6.3 liter AMG again?
[Via Carscoop]