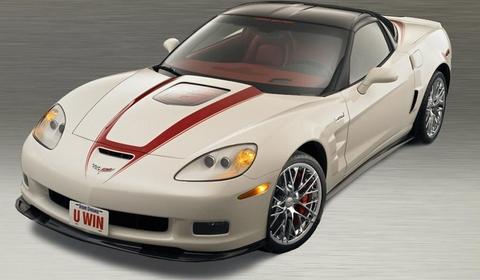 Special editions and Corvette, it seems to be a perfect couple. Chevrolet Corvette ZR1 has been designated as the 'Brad Paisley Hero Edition ZR1' and is an one-off Corvette powered by a LS9 supercharged 6.2 liter V8 engine with a Lingenfelter performance upgrade system that produces over 700hp, 62 horses more than a standard Corvette.
It isn't Corvette's first trial as General Motors has build an one-off version of their ultimate sports car back in 2009. The Corvette ZR1 "Hero Edition" has been made to honor the brave young heroes served by a special hospital program build up by the "Kids Wish Network". The Kids Wish Network Hero program is currently active in over 150 pediatric hospitals across the country
The new one-off ZR1 converts its power to the street via a six-speed manual transmission with a dual clutch system. Apart from Lingenfelter's engine upgrade, this special edition ZR1 also comes with a signature under its hood of the man to whom to car was named after, country music star Brad Paisley.