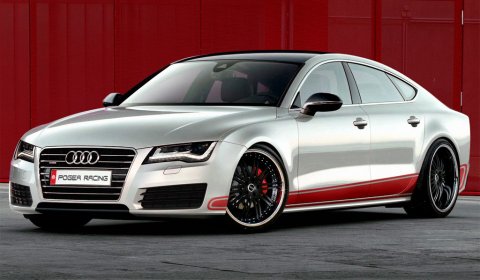 Pogea Racing has released their program for the Audi A7 3.0 TDI and the 3.0 TFSI. The series control unit has been newly programmed, new rims are fitted to the saloon and the suspension setup and brake kit have been changed.
The program includes two performance kits for the turbo diesel and a performance setting for the three liter supercharged petrol engine. The first variation is intended for the A7 3.0 TDI in the multitronic version. The tuner has improved the performance from 204 to an 251PS. The torque increases from 400 to 468Nm.
The second performance is created for the A7 in the S-Tronic model. The diesel engine undergoes an increase in strength from 245 to 289PS and the torque goes from 500 to 555Nm. The power treatment for the supercharged petrol engine brings a performance increase from 300 to 345PS. The torque climbs from 440 to 495Nm.
Optional there is also the choice of a sports filter and a stainless steel exhaust system with a sporty sonorous sound. All performance enhancements always include suspension of factory set speed restrictions (V-Max). Optionally all tuning can be recorded at an extra charge on the performance test-bench.
The German tuner outfitted the luxury saloon with Stroke metal alloy wheel rims from MÖZ. The 9×20 inch model are shiny black and have chromed rims. The MÖZ Stroke set is delivered with Continental Sport Contact 3 in the dimensions 265/30 20. Pogea outfitted a coil-over suspension Street Comfort from KW. The braking system from Brembo with perforated steel discs and special brake pads ensures maximum braking performance.