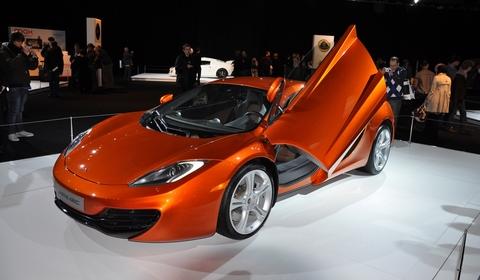 The guys from Top Gear are up for a surprise tonight when the brand new 2011 McLaren MP4-12C shows up in episode 4 of season 16. The full specifications of McLaren's latest project have also been revealed at their official website.
The new super sports car developed by McLaren Automotive is based around a carbon fiber chassis. The 'mono cell' of the 12C is an unique piece of energy and an innovation in the automotive world derived from the Formula 1.
The 3.8 liter V8 bi-turbo aluminum has variable valve timing and produces 600hp. The maximum torque is 600Nm at 3,000-7,000rpm. With only 1,336kg its lightness will stand out between the competition, such as the Ferrari 458 Italia. A sprint from 0 to 100km/h is completed in just 3.3 seconds and 200km/h takes just 9.1 seconds from zero. The top speed is 330km/h.
Pirelli Tyre partner front mounted 19-inch wheels, which run on PZero rubber in 235/35 R19. At the rear you will get 20 inch sizing 305/30 R20.
If you want to know more about the McLaren MP4-12C click here.