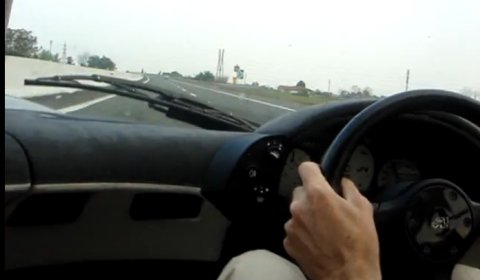 The quality is not the best we have seen, but the video shows a McLaren F1 driving 200+ km/h en route to Monte Carlo for the Historic Grand Prix.
The McLaren F1 was the worlds fastest production car with a top speed of 386km/h in 1995. The speed was achieved with a 6.1 liter V12 from BMW creating 627bhp. Sprint time from stand still to 100km/h is only 3.2 seconds.
That record last for 10 years, until on February 28th 2005 the record got broken by a Koenigsegg CCR that managed to reach a topspeed of 387km/h on the Italian Nardo circuit. Since 2005 the speed records got smashed by the Bugatti Veyron with 407km/h, the Koenigsegg CCXR with 409km/h, the Aero SSC with 414km/h and the Veyron Super Sport with a top speed of 434km/h.