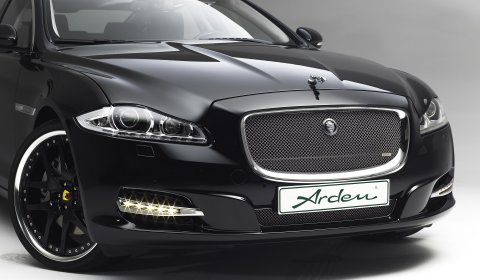 German tuner Arden has presented the latest Jaguar XJ 351 in the Arden design. The hand-made stainless steel grille gives the Arden Jaguar AJ 22 an elegant and sporty look, combined with the Arden bonnet ornament.
A special feature for the XJ are the LED daytime running lights for the standard front-end that have been matched to the vehicle colour or can be delivered in a chrome-plated version if required.
The Arden high-performance exhaust silencer system is made completely of stainless steel. The chrome-plated twin tailpipes give the XJ a sporty touch.
Arden offers different performance packages for ambitious drivers. For example, the 5.0 liter compressor combined with the Arden high-performance exhaust silencer system and Sport metal catalytic converters can achieve an increase in power of up to 95hp and an increase in torque of up to about 120Nm in the Jaguar XJ. For customers who do not want a complete system, the electronics can be optimised to increase performance by around 50hp and 50Nm.
The dynamic appearance of the Arden AJ 22 is rounded off by the 21 inch light alloy rims.
Arden offers conversion kits for the predecessor models that can upgrade any vehicle.