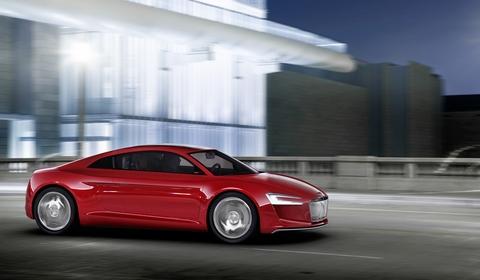 Everyone who drove an hybrid car knows that when you aren't driving too fast, under 25km/h (15,5mph), you can't hear a single noise coming from the engine. When the engine then switches to the petrol-engine, the sound coming from under the hood isn't really loud either. The guys from Ingolstadt decided to create an articifial sound for their electic car with respect to the safety factor.
Electric cars become dangerous in situations where people are not hearing the vehicle. Christian Schüller, Head of Brand Development/Corporate Identity and Dr. Ralf Kunkel, Head of Acoustics at Audi AG have their own view on the artificial sound.
Christian Schüller says:
The obvious approach would be to work on the basis of the familiar sound of a combustion engine. On the other hand, we want to underscore that an electric or hybrid Audi is an innovative product. We also want to make our Vorsprung durch Technik audible in the era of electric mobility.
Ralf Kunkel says:
The sounds used for space ships in films are reminiscent of car sounds, yet are also very different, making this a rather interesting approach.