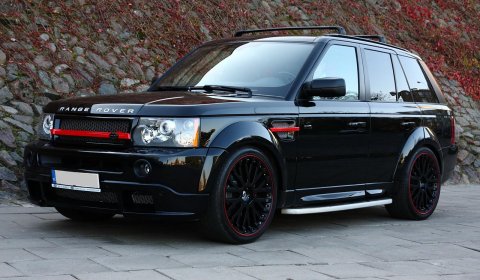 This is the first official Range Rover Sport equipped with the Kahn Stage2 package and Supercharged STPRMER package in Poland. The black SUV got a proper treatment from the UK-based tuner Kahn Design.
A full body kit has been installed and 22 inch Kahn RS-X wheels with Toyo 285/35 R22 tyres have been outfitted to the car. The exterior has been stripped of all chrome accessories and got a red touch.
On the technical level the vehicle got an improved exhaust system.
On the inside you will see a brand new interior, different leather upholstery, upgraded seats and a lot of black Alcantara on for instance the headlining and dashboard.
The Kahn Range Rover Sport Stage 2 is an unique vehicle in Poland. It is the only one available in the in East European country.