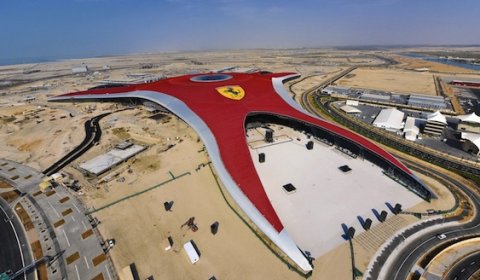 Ferrari World has welcomed its first visitors today around 7 pm. The first official automotive theme park in Abu Dhabi opened its doors before the official opening in December, when the full park will open up to the public. Only the exterior features are now available to visitors.
Officials in the United Arab Emirates say the opening is a "historic day", with guests for the first time experiencing the park's wide variety of rides and attractions.
Ferrari World Abu Dhabi is the world's largest indoor theme park, sitting under a 2,200,000-square-foot red roof designed in the style of a classic double-curve body shell of a Ferrari. The park will feature twenty rides and attractions. Ferrari World Abu Dhabi is located on Yas Island, a 2,500 hectare island, near the Formule 1 race track.
The main attractions are the world's fastest roller coaster, Formula Rossa, with top speeds of up to 150mph, the region's first dueling roller coaster, Fiorano GT Challenge, and a 4-D experience inside Speed of Magic.
Other attractions include Made in Maranello, a virtual trip through the Ferrari factory in Italy; V12, a flume ride through the heart of a 12-cylinder engine; and G-Force, a tower ride that shoots thrill-seekers through the red roof and 203 feet in the air before plummeting back to Earth. You will be experiencing the actual G-force of a Ferrari, in a seat directly inspired by the Ferrari Enzo.
Among kid-friendly attractions, Junior GT lets kids drive reduced scale F430 GT Spiders and Carousel features never-before-seen Ferrari prototypes based on winning designs from a Ferrari competition.
Standard tickets cost 225 UAE Dirhams ($ 61 – € 45) for visitors over 1m50, and 165 AED ($ 45 – € 33) for kids. Premium tickets, which provide access to an exclusive lounge with refreshments as well as other unannounced benefits, cost 375 AED ($ 102 – € 75) for visitors over 1m50 and 270 AED ($ 74 – € 54) for younger Ferrari fans. The park is operating on a six-day a week schedule from Tuesday to Sunday, opening each day at noon.
Make sure when you visit the UAE region you will check out this gearhead's Disneyland!
Update: The soft launch is delayed until further notice! The opening of the Ferrari World has been indefinitely delayed as a sign of mourning over the death of Sheik Saqr bin Mohammed Al-Qasimi, Emir of Ras al-Khaimah. It is uncertain when the theme park will open its doors officially. Stay tuned for more information!