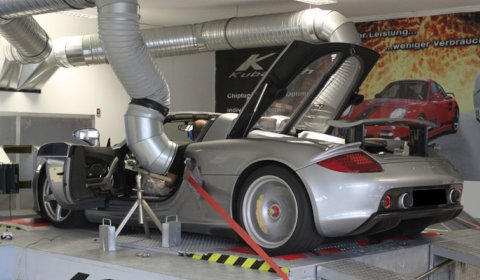 Kubatech – an engine software expert from Mechernich, Germany – has increased the performance of the 612hp Porsche Carrera GT by an extra 48hp. The top speed increased by 13km/h and the torque by 52Nm. Improvement in performance is caused by modified engine electronics and the installation of a Cargraphic sport exhaust system.
After the software optimization, the power was increased from the standard 612hp to 660hp. At the same time, the torque has risen from 590Nm up to 642Nm. The top speed of the standard Carrera GT goes over 330km/h.
The cost of the increase in performance "Stage II" for the Porsche Carrera GT is € 10699 including the exhaust system. Installation takes about 2-3 working days, including special adjustment using our proprietary dynamometer.