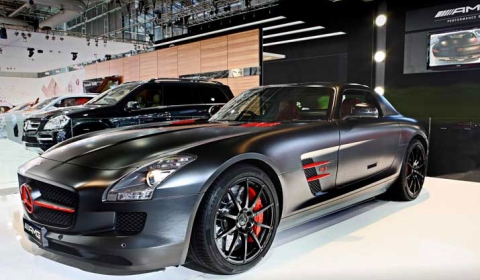 Mercedes-Benz Australia has revealed two new vehicles at the Australian International Motor Show which started today. The Mercedes-Benz SLS AMG Night Black is a one of the two unique sports cars shown at the event.
The matt black exterior finish is accompanied by various red accents on the inside and outside, such as a front grille, air vent fins and various other parts. Mercedes has added its Performance Package Plus. The package consists of the red AMG branded brake calipers adding to the color scheme of the vehicle and a subtle carbon fiber spoiler, as well as a little engine modification.
The car was especially designed for the Australia market, but we would like to suggest to the German car maker to ship this unique SLS AMG around the world in a limited amount.