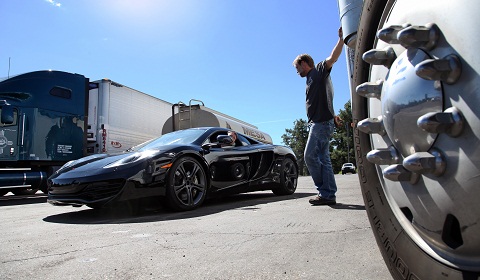 McLaren have just released this set of photographs showing the MP4-12C testing in the Arizona deserts. Three of the 40 prototype vehicles to have been built by McLaren Automotive ventured out into the extreme heat. Two VP cars and one XP car were put through their paces day and night over three weeks on a mixture of driving surfaces.
Temperatures peaked at 46 degrees Celsius (115 degrees Fahrenheit).
Tony Joseph, Regional Director for McLaren Automotive North America, said:
Feedback from prospective customers we received at Pebble Beach Concours d'Elegance clearly indicates that Americans are keen to see McLaren succeed in this market, so it is vitally important that our development team undertakes test programmes in North America.

The combination of extreme ambient temperatures in a high altitude environment is perfect for testing components including the 12C's bespoke heating, ventilation and air conditioning system, which has performed exceptionally well in Arizona. Amassing mileage in these conditions is invaluable in proving the 12C's new engine, which was equally impressive throughout significant changes in the test environment.
Andy Beale, a Vehicle Development Engineer working on the programme said:
Between Lake Havasu City and Flagstaff the development team passed through Las Vegas and the Grand Canyon. Our 12C prototypes received great comments from motorists along the way, relating in particular to the car's design and its exhaust note.