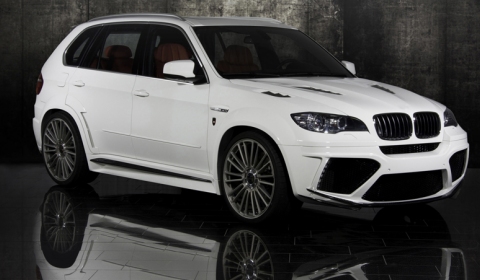 The Swiss Mansory firm – part of the main tuning company – adds a new brand to their line-up. The company known for their Porsche upgrades expands line-up with BMW programs. The first vehicle to receive a brand new body kit, engine tuning, refined interior and a set of wheels is the BMW X5 M. The X5 is just the beginning, according to Mansory. The BMW X6 and BMW 7 Series are next!
The massive body kit is easily noticeable. The front bumper has bigger air inlets giving the V8 more air to breath and horizontal LED daylight running lights. The hood is made out of carbon fiber and has additional air vents. The wheel fenders are wider, 70mm at the front and 80mm at the rear. The side skirts have been replaced, same goes for the rear bumper which includes a carbon fiber rear diffuser and space for the 2×2 exhaust pipes of the sport exhaust system. The rear window spoiler and two sections on the rear door are carbon fiber as well.
At the performance side of the story Mansory improves the horsepower up to 670hp and the maximum torque to 950Nm at 5,900rpm. The vehicle sprints from 0 to 100km/h (62mph) in 4.2 seconds and has a top speed of 300km/h (186mph). Other technical changes includes a new exhaust system, newly developed headers, ECU upgrade and a suspension change lowering the car up to 40 mm. A sports break system with larger discs and multi-piston brake callipers is also available. The silver monoblock cast wheels with the description M10 are fitted with tyres of the dimension 315/25R23.
The only interior highlight directly visible on the pictures is the newly designed sports steering wheel. Additionally, the interior can be redesigned and outfitted with materials requested by the owner.
[Via Autogespot]