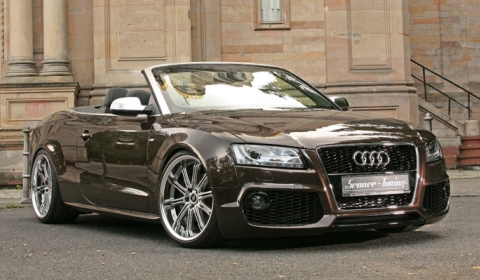 German tuner Senner Tuning offers an individualisation program for the current Audi A5/S5 Cabriolet. The performance of the turbo petrol engines have been increased to 275hp and 430Nm with the use of sports air filters and software optimisation.
By replacing the Power Convertor the gas intake has a quicker reaction time. Additional the exhaust system is replaced as well for a stainless steel version with four end pipes, 88x74mm in diameter.
Two sets of wheels are placed on the demo car shown here. On the right are Varianza TIS light metal rims and on the left, Scwhert or Sword SC1 light metal rims in silver chrome with anodised lips 9×20 inches and 10.5×20 inches in size with 245/30 R20 und 295/25 R20er Vredestein tyres.
The Ingelheim team has also cosmetically changed the bodywork of the A5. The body kit includes a new spoiler in RS6 design, cooler grill, exterior mirrors in the RS5 design and a rear valance with sporty diffusor fins.
On the inside you will spot a carbon set including a tacho blend, the S-Line sports steering wheel, an ash tray cover as well as a further extension of door applications. The whole thing is completed with the convertible roof module, which lets you open and close the roof via a radio signal.