A new year, a new Challenge. Today the supercar rally from The Netherlands started at Schloss Fuschl near Salzburg in Austria. Over the next few days the Challengers will drive through Eastern Europe and the Balkan on the way to the finish in Istanbul where they are expected to arrive this saturday.
Last year the Challenge, that was formerly sponsored by Quote Magazine, finished in Rome after a lap through Slovenia and the Balkan countries. This year organiser Sjoerd van Stokkum traded in the S65 AMG he was driving last year for a brand new Porsche 997 GT3 RS MkII.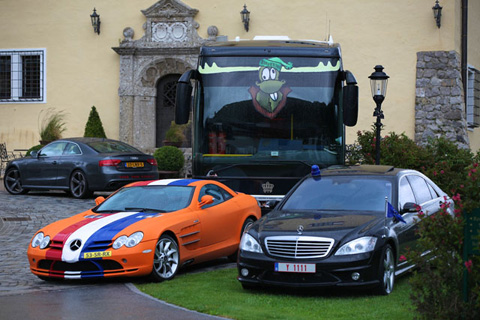 As usual with the Quote Challenge the participants do their best to show up in the craziest themed cars. This year is no exception with a Dutch National SLR, Dukes of Hazzard Nissan GTR, Chrome Audi R8, Aston Martin DBS Carbon Black wrapped in an artwork by Jeff Koons and even a complete disco touring car complete with a full music and light installation.
The Quote Challenge has lost any of its (illegal) racing aspects and it has transformed into a multiple day tour for supercar owners that like to party. The route is still a closely guarded secret but in contrary to previous years the start and finish location were announced weeks before the start of the event. For those of you interested to take part next year, the entrance fee is € 15.000 per team.
[Photos via Quoto]