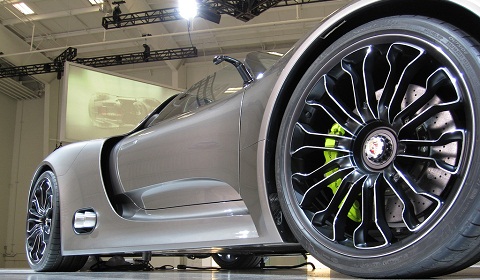 Teamspeed have provided us with another scoop in the form of a photo set and details from the private Porsche event. It seems the car is near certain to be put into production with several test mules already on the roads wearing Boxster and Cayman body shells.
Starting from the outside, the prototype model features a complete carbon fiber shell, something that will remain with the production car, aside from the front end which will be aluminum to pass strict US safety laws. The car may be available both in a hard-top form and as a drop-top form.
The drive system currently features a 3.4 liter V8 which is expected to increase in size before production starts. This is coupled with three 40kW electric motors using both regenerative braking and a more traditional plug-in system. Power has been touted by several publications to be increased to 708bhp, Porsche were not able to give a figure at the event so this can not be confirmed.
The transmission system will feature a PDK gearbox. There won't be an option for a six-speed. Some of you may also be pleased to know that Porsche may move the side-exit exhausts on the grounds of either aerodynamic efficiency or through customer input.
Inside, the touchscreen center console looks set to make production, as do camera rear-view mirrors. Positioned in the dashboard are two lcd displays that will act as rear-view mirrors. Expect smaller rims on the production model too.
No official word on price yet despite an earlier leak. Incidently, the prototype 918 Spyder took just five months to build at the staggering price of $20 million! It also seems that Porsche want to invite each one of its 1000-1200 customers to purchase the car, in a similar way to Ferrari's Enzo customers.
It seems that preference for cars will be going to customers who show an interest in it through a series of planned events. Porsche will be bringing the car to Florida soon to gauge opinion and ask opinions of potential owners.
We will keep you posted when we hear more info!