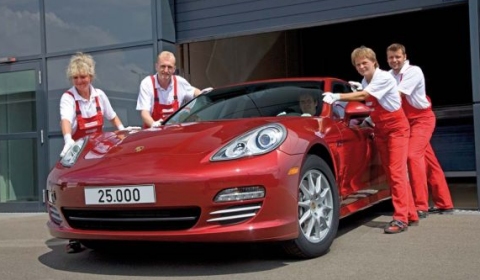 In less than ten months of production Porsche has produced up to 25,000 Panamera's. The model shown here is a 300hp strong Panamera in the color 'Ruby Red'. The car will be shipped to the States and handed to an American customer.
Porsche Executive Vice President Sales and Marketing Bernhard Maier stated:
The benchmark performance of our Panamera V6 models wins over our customers worldwide. Even in the USA, a country with a preference for V8 engines, they impress with their efficiency and sportiness. The 4-door combines these aspects with the comfort and exclusivity of the luxury class.