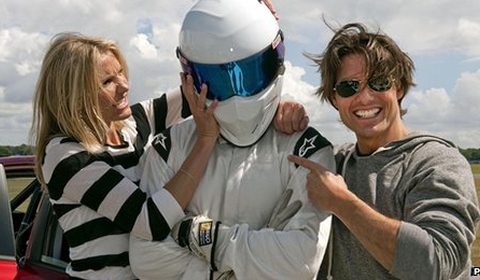 Perhaps you have seen episode 5 of Top Gear Season 15 on Sunday or yesterday evening. Both Cameron Diaz and Tom Cruise were at the show to set a time in the Kia Cee'd. While filming their laps on the Top Gear racetrack, both movie starts tried to wrest off Stig's helmet.
Stig came to Diaz's aid when the Kia conked out at one point. In return she tried to remove the mysterious driver's headgear.
Cruise described the experience as being a lot of fun. "I like fast cars and motorcycles – I've always loved them since I was a kid," he said. Diaz admitted she was finding it difficult to keep their scores a secret. "We did timed laps. It's very exciting – we know the score and we want to tell everybody, but we can't because we want them to watch the show," she said.
So even unveiling the lap times is a set up… That is kinda interesting!