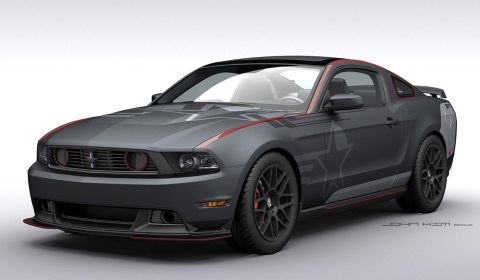 For the first time ever, Carroll Shelby and Jack Roush teamed up to design, engineer and produce the charity SR-71. The Ford Mustang special edition was of course inspired by the SR-71 "Blackbird", the long-range reconnaissance USAF aircraft built by Lockheed Martin and will be auctioned off in support of the EAA's (Experimental Aircraft Association) Young Eagles program.
The SR-71 Mustang (S for Shelby, R for Roush) is being built at the Roush facility in Livonia, Michigan and is packed with special and unique features like the embroidered signatures of Jack Roush and Carroll Shelby in the exclusive racing seats. The vehicle got the following specifications:
All-new aluminum block 5.0-liter Ti-VCT V8 engine with a 2.3 liter Whipple Twin Screw Supercharger with Ford Racing calibration and Roush intake
Ford Racing Handling Pack
Ford Racing tuned exhaust and tips
SVT Track Pack wheels in custom paint (19 inch in front, 20 inch in rear)
Glass roof with unique graphic treatment
Unique non-production matte and silver exterior paint treatment with SR-71 cues
Custom Recaro race seats featuring embroidered signatures of Jack Roush and Carroll Shelby
Custom racing steering wheel
Rear seat removed to accentuate cockpit environment
Ford Racing performance gauge cluster
Modified navigation screen and instrument cluster
Roll cage
Custom IP badging, sill plates and floor mats
The auction for the SR-71 Mustang will take place on Thursday, July 29th at 7:30 PM (Central USA Time) at the EAA Museum in Oshkosh, Wisconsin.