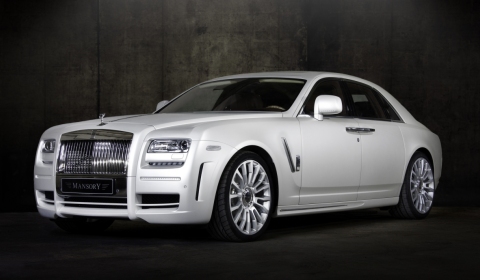 German luxury tuner Mansory has revealed its second package for the Rolls-Royce Ghost. The package follows the first blue-gold creation unveiled at the Geneva Motor Show in March and sold in the UAE by Prestige Cars even before it was introduced.
The White Ghost Limited has a new white livery and a new front-end featuring additional LED daytime running lights and vertical air outlets on the sides, directly beneath the serial cooling grill. New side skirts, new rear view mirrors on each side, rear spoiler as well as the rear apron with implied diffuser and a dual sport exhaust system complement the exterior look.
The massive wheels have a diamond-polished surface and measure 22 inches. The 9 inch front axle wheels are equipped with 265/35 Dunlop SP SportMaxx high-performance tyres, while the rear axle features 10.5 inch wheels with a tyre size of 295/30.
Instead of the standard 570PS (420kW) the White Ghost Limited series features a 638PS (469kW) at 5700rpm. They also enhanced the maximum torque from 780 to 860Nm. This enables the engine to accelerate the 2360kg luxury vehicle from 0 to 100km/h (62mph) in only 4.5 seconds and saving 0.4 seconds in comparison to the serial version. Acceleration is no longer limited to 250, but rather to 290km/h.
According to Mansory, the interior is an oasis of luxury. Large parts of the interior are covered in leather with a cross-stitched pattern and it includes a headliner and dash board made of Alcantara. The sports steering wheel together with the light colours bamboo create a rather 'unique' atmosphere. The illuminated entries and implemented ambiance lighting effects are another addition: Seats, door panels and dash board feature LED's.
[Via Autoblog.nl]