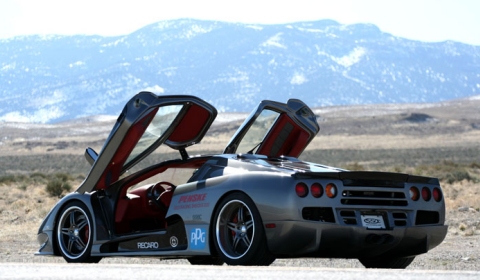 You may have heard that some Bugatti Veyron Super Sport has taken the title World's Fastest Production Car. The hypercar took it away from the American-built SSC Ultimate Aero which held the fastest production car time at 256mph. As a response the guys over at Shelby SuperCars have released a statement celebrating Bugatti and hinting a new version which could take back the record.
We would sincerely like to congratulate Bugatti… When the Ultimate Aero broke the record in 2007, we knew it was just a matter of time until it was broken by someone else.
Interesting fact is that Jason Castriota – responsible for both the Bertone Mantide and Pininfarina P4/5 – will be the chief designer.
We've been working on a new project to debut before the end of the summer. Not much can be said at this time except that we'll be upping the ante on all fronts. Having famed American designer Jason Castriota as our lead design enables SSC to reflect its engineer and performance in its aesthetics. It's impossible for us to be more thrilled about having him on board and we're anxious to show the world what we have up our sleeve.
The new car could make its debut later this summer trying to regain the 'fastest car' crown. Stay tuned for more information on the new SSC.
[Via Jalopnik]