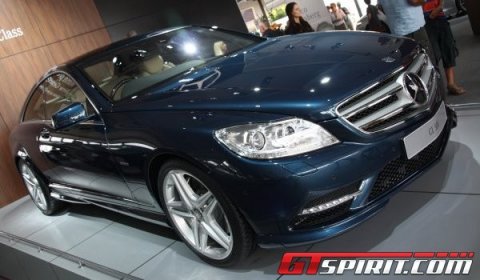 Yesterday, Mercedes-Benz updated their CL-Range with a facelift model. The car is now on display at the Goodwood Festival of Speed, we took a look at it today!
The car displayed was the CL500. It features an entirely re-designed 435hp (320kW) 4.7 liter V8 biturbo engine with an improved combined fuel consumption of 9.5 litres premium-grade petrol per 100km. It is more efficient than it is predecessor. Thanks to its increased torque and power, the CL500 does 0-100km/h (62mph) in just 4.9 seconds, half a second faster than the previous generation. It also features automatic start-stop technology.
The CL 600 is also available with its V12 rated to 517hp (380kW). Both AMG versions are also available with the CL63 AMG putting out 537hp (400kW) and the CL65 AMG 621hp (463kW).
Exterior modifications extend to a new front bonnet and bumper featuring a V-shape radiator grille and curved headlights as well as new air intakes. Two electronic systems worth mentioning in the front of the car are the Intelligent Light System (ILS) and Adaptive Highbeam Assist. At the rear of the car you have new tail lights. LED fog lights and a sportier exhaust system are also noticeable.
As you would expect from a Mercedes there is plenty of cutting-edge camera and radar-based assistance systems including the Active Lane Assist and Active Blind Spot Assist systems. There is also a system called Active Body Control (ABC) with crosswind stabilisation system and 'Direct-Steer' contribute to enhancing safety and driving enjoyment.
The interior does not appear to have seen many revisions besides a few new wooden inserts. If you want to see the car, it is on display at the Mercedes-Benz stand at the Festival of Speed today and tomorrow.