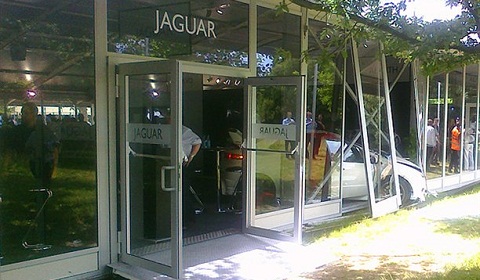 It seems that the Moving Motor Show at Goodwood yesterday did not go entirely smoothly. These pictures show the aftermath of an accident involving a Mugen Civic Type R and the Jaguar Hospitality area.
A Goodwood spokesperson was quoted as saying:
At 12.40 today an incident occurred within the exhibition hall at the Goodwood Moving Motor Show when a driver of a slow-moving car black out, lost control of his vehicle and injured four people.
Fortunately, none of the four people have suffered any major injuries. The worst of the damage appears to have been inflicted on the aforementioned Mugen Civic Type R the earliest known example of the Jaguar E-Type.
[Via Autocar]