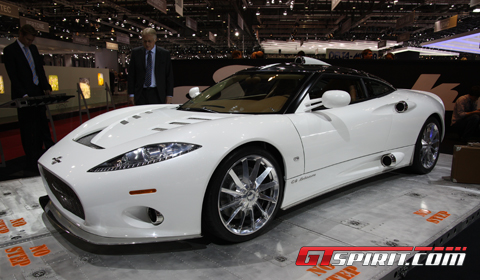 The Dutch car maker Spyker Cars NV has stated plans to raise annual vehicle sales by seven times in two years using the current C8 Aileron model. A total amount of 250 C8 Ailerons is the main target, said Peter van Rooy, the company's sales manager, in an interview with Automotive News Europe. Spyker sold 36 cars last year and has delivered a total of 214 vehicles since 2002.
Spyker is reducing the cost by shifting production to supplier CAPP Manufacturing Ltd. in Coventry, England. The first C8 Aileron delivered will be a tailor-made, silver-and-white model with turquoise leather seats, to be handed over in late July to a Russian billionaire.
The importance of the model's automatic-transmission option is key in creating awareness with American, Russian, Chinese and Middle Eastern drivers, said Van Rooy. The company did not offer automatic gearboxes in previous models, they will now in the C8 Aileron.
Shifting C8 Aileron production to Coventry from Zeewolde in November 2009 helped Spyker reduce the time needed to build a car to 275 work-hours from more than 500 hours previously. Spyker may also add 80 mechanics in Coventry. The current C8 Spyder and C8 Laviolette models, which are built at Spyker's headquarters plant, will be "phased out slowly," according to Van Rooy.