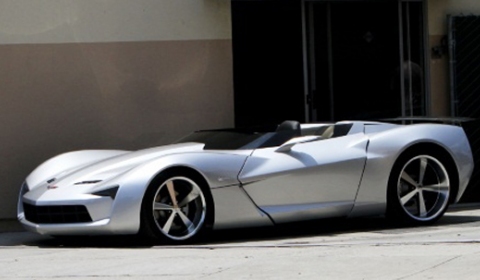 The eagle-eyed crew over at Corvette-blogger.com spotted this roofless version of the 50th Anniversary Corvette Stingray Concept. It was parked on a street in Beverly Hills.
They compare it to the original 50th Anniversary Corvette Stingray Concept that was shown at the Chicago Auto Show in 2009 as well as in the movie Transformers 2: Revenge of the Fallen. The main differences are a different hood with dual openings in the front, no LED vertical headlights, different wheels and a different front grille. As the original Stingray Concept it features Lambo-style doors.
Maybe Sideswipe decided to transform into something different while being filmed for the movie Transformers 3 and enjoying the California sunshine.