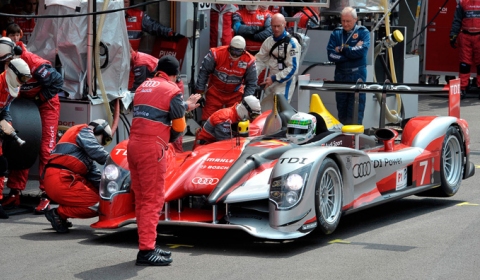 Le Mans 2010 is starting today. Just in case you want to follow the event Audi has opened up a tv channel at Audi.tv giving view from the cockpit and the race itself. So make sure you do not miss it at 9 AM EDT or 1 PM UTC!
Dry conditions are forecast for the start of the race. Allan McNish (#7), Marcel Fässler (#8) and Timo Bernhard (#9) are the start drivers for the three Audi R15 TDI prototpyes. As usual the drivers will rotate in alphabetical order during the race: #7 McNish > Capello > Kristensen, 8 Fässler > Lotterer > Treluyer, #9 Bernhard > Dumas > Rockenfeller.
Before the race starts, the five-time Le Mans winner Frank Biela will pilot an Audi E-tron around the race track. The high-performance electric sports car was presented on Friday evening in the pitlane of Le Mans.