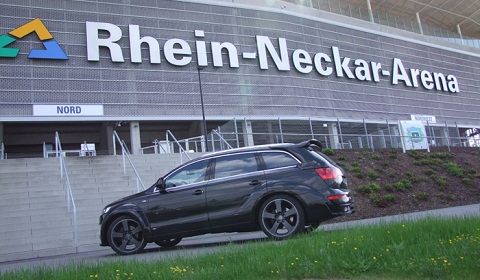 JE Design have released details of a complete kit they now offer for the Audi Q7. It includes performance, aero and suspension upgrades and fits the entire Q7 range.
Aerodynamically, JE Design offer a new front and rear spoiler as well as a rear spoiler and what JE Design call a C-pillar trim. A new fender flare kit gives the Q7 its extra width adding several new air vents as well to finish its sportier conversion.
A new 10×22 inch alloy is available for models across the VAG range (Q7, Cayenne and Toureg). Finished options include SMVP (black matt/front polished), CSSVP (shadow-silver/front polished), GSGHP (graphite-silver glossy/lip polished) and GSMHP (Graphite-silver matt/lip polished). Optional wheel spacers (front 60mm, rear 80mm) are available.
Electronically lowered suspension is included with a range of different settings. Engine upgrades are offered through the JE Design Audi Catalogue. You will have, no doubt, also noticed the striking diamond shaped sports exhaust system.
For more information on pricing and availability visit JE Design's website.