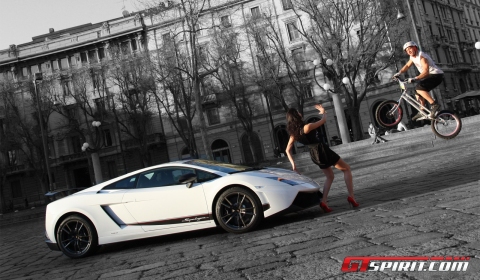 Following the photoshoot of our friend Thomas for GTspirit with the new Lamborghini Gallardo LP 570-4 Superleggera and Russian model Evgeniya Shcherbakova in Milan, Italy we can show a brand new photo of the day.
The photo shows an action shot with the LP570-4 at a square in Milan together with model Evgeniya and pro BMX-er Francesco Rolleri. Francesco is Italian Champion BMX and this part of Milan is his favorite BMX area in the Italian fashion capital. Also see Francesco in action on Youtube!
Download a hi-res version of the picture here. If you need a bigger picture please contact us or leave a comment below.