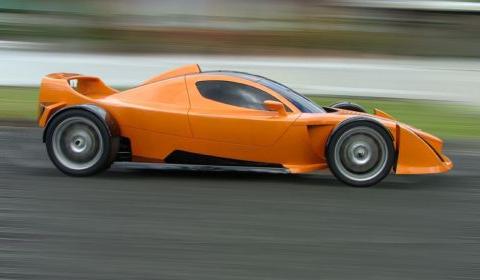 When we think about home-countries of sports cars we directly think about Germany and Italy, at least here in Europe. But lets not forget other and rather less prominent countries in the supercar world. One of them is New Zeeland, where Hulme Supercars is based. About four years ago Hulme opened up the order books for their CanAm. Good news is that there are still open orders, but if you want one, you better be fast because Hulme Supercars will only build twenty pieces of the CanAm.
To become a future lucky owner you will have to submit a £ 10,000 (€ 11,350 – $ 15,300) deposit on Hulme's bank account. Strangely enough the production of the CanAm won't start until the late 2011. European customers will be invited for a private showing and test drive sometime before the 2011 Goodwood Festival of Speed.
Anyone who decides to take delivery of the CanAm needs to remember the car will set you back with £ 457,000 (€ 519,00 – $ 700,000). That price includes two business class tickets to Auckland, New Zealand for final fitting of the car and some local driving time. Once the customer is satisfied, the car will get shipped to its final destination.
[via Autoblog.com]