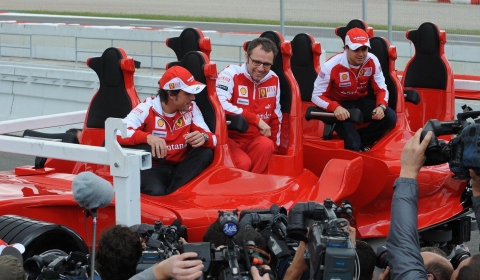 The Ferrari Formula Rossa roller coaster made its public debut at the Catalunya Circuit this weekend. A vehicle used on one of the fastest roller coaster rides in the world was presented to the media with three special passengers; Stefano Domenicali, Fernando Alonso and Felipe Massa.
The Formula Rossa will be accelerating you to 240km/h and you will experience what 1.7 Gs really feels like. It starts in a temperature controlled pre-ride waiting area, where riders will be given protective eyewear, designed to protect passengers from the windforce generated by the coaster's high speed. Using a hydraulic winch system, similar to those used to launch jet planes, the F1 inspired coaster is then shot out of the launch area using 20,800 horsepower and propelled to a height of 52m in less than five seconds.
The attraction is part of Ferrari World Abu Dhabi, the first theme park whose actual theme is the Maranello-based company and which we visited two months ago. It will be officially opened on 28 October at the Yas Marina Island, in the Abu Dhabi emirate.