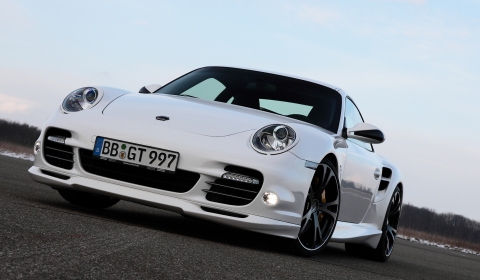 German tuner TechArt has unveiled its engine performance kits for the current Porsche 911 Turbo Facelift. Both stages – TA 097/T1 and TA 097/T2 – are now available.
Fitted with the engine performance kit TA 097/T1 and added 70hp compared to the series model, the Porsche 911 Turbo accelerates to 100km/h in 3.2 seconds. The forward propulsion stops not until 324km/h. The boost in performance is made possible by optimized engine control and the use of a new sport air filter.
The TA 097/T2 engine performance kit deliveres 620hp and a maximum torque of 820Nm. The engine conversion involves the installation of a sport air filter, manifold and the sports exhaust system. 0–100km/h in extraordinary 2.9 seconds, the 200km/h barrier is broken in further 6.4 seconds. The top speed of the sports car with its 3.8 liter engine is a stunning 333km/h.
For more information contact us or TechArt on the installation of the packages.