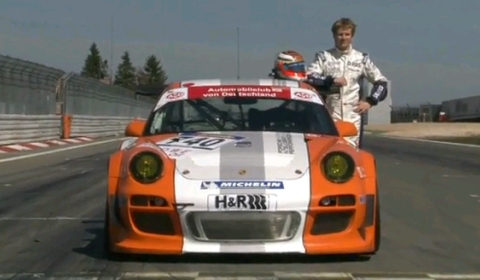 Williams Formula 1 pilot Nico Hülkenberg got the chance to drive the Porsche 911 GT3 R Hybrid at the Nordschleife. One of the components of the hybrid system, the flywheel generator installed inside the cockpit, was designed and manufactured by Williams Hybrid Power following Porsche's specifications. Obviously, Hülkenberg was their first choice making his debut at the 'Green Hell'.
This test was great fun. I'm impressed with how well the hybrid system works in the Porsche. This circuit is unique – you cannot compare it to any other track in the world. This is certainly not the last time I will drive here. Surprisingly, in the slow corners, the 911 is not far off a Formula 1 car. The mechanical grip is impressive.
In the 911 GT3 Hybrid, two electric motors at the front axle developing 60kW (82hp) each supplement the 353 kilowatt (480hp) four-litre flat-six at the rear. Instead of the batteries used in hybrid road cars, an electrical flywheel power generator fitted in the cockpit beside the driver delivers energy to the electric motors. Compared to a battery, the flywheel generator has the advantage of storing and delivering high amounts of energy considerably quicker.
When overtaking or accelerating out of a bend, the driver can manually override the controls by pressing the boost paddle on the steering wheel and sending energy from the charged flywheel generator to the front axle. This additional power of 120 kilowatts is available to the driver after each charge process for approximately six to eight seconds.