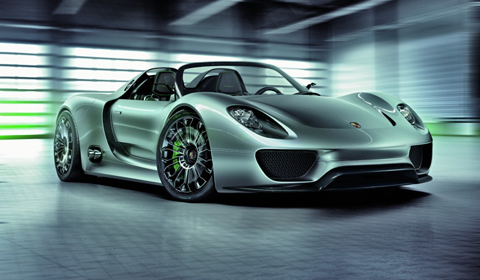 Porsche told Bloomberg that is has almost 900 potential buyers for its 918 Spyder hybrid prototype. Unveild at the Geneva Motor Show last month, the threshold of 1,000 customers will be the breaking point to build the model. Porsche's development chief, Wolfgang Duerheimer, said in an interview at the Beijing Auto Show last week:
I'm confident that we will soon reach the threshold of 1,000. We need 1,000 seriously interested people to make a sound business case.
Realized in under five months, the 918 combines a 500bhp conventional V8 with two electric motors up to a performance of 718bhp. A button on the steering wheel allows the driver to choose either an 'E-Drive' mode for running the car under electric power alone, with a range of up to 25km (16 miles). 0-100km/h (62mph) would be possible in 3.2 seconds and the top speed is estimated at 320km/h (198mph).
[Via WorldCarFans]