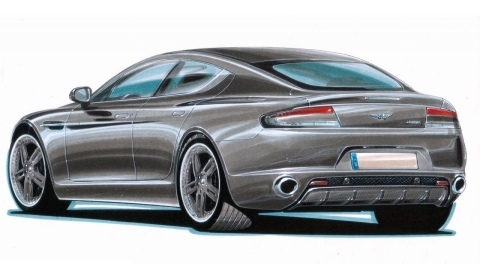 Car tuner Cargraphic has unveiled the first photos retouching the Aston Martin Rapide. Optically they kept it very discreet. The tail diffuser, the wing mirror caps, as well as the spoiler at the front apron enhance the looks of the four-door luxury saloon.
On the technical side they have installed a remote controlled high-grade steel flap exhaust with a polished shield. This system is manufactured in the company's own exhaust factory in England. In order to ensure the lowest possible exhaust counter-pressure a 200-cell catalyst is employed, which should squeeze a bit of extra horse power out of the V12 engine.
Cargraphic outfitted the vehicles with new tyres and rims. The 255/35R21 rims are designated up front and at the back, 295/30R21. Light alloy wheels named GT-R, GT, I-10 and SPORT are available. The complete repertoire covers sizes between 20 and 22 inch and permits optionally a free choice of colours.