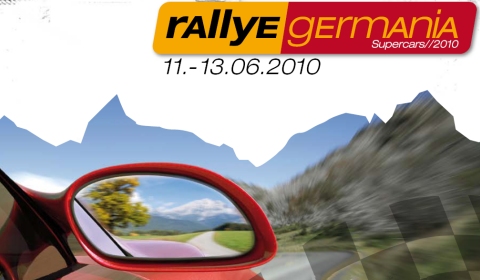 For those of you keen on rallys and supercars, there is a new German supercar event. Open to exclusive post-war sports cars Rallye Germania 2010 is special because it provides an exclusive range of exceptional cars made over the last fifty years driven by teams from around ten different countries. The start will be on Saturday morning June 12th 2010 right in the middle of the Black Forrest near the Titisee and the city of Freiburg.
As a participant you will have to use a professional roadbook across the Black Forrest, the Allgaeu and the countryside of Salzburg. The two-day route includes the landscape of Southern Germany and Austria, but also the twisty and winding country roads. Of course, the German Autobahn will not be forgotten.
The route of the second day will bring the teams to the Salzburgring circuit. On the track they can perfect their driving abilities, set up their cars or enjoy the fun of driving on a race track. Additionally instructors are available. So you can watch, learn and try your new abilities on the same day.
Eligible vehicles must fall within one of the following categories: Exclusive sports-, rallye- and/or GT's dating from the postwar era to the present day. Only two or three seaters are allowed, sedans are not eligible. The organisation prefers brands like Porsche, Lamborghini, Ferrari, Audi, Bugatti and Pagani. The current line-up entered into the rally includes a Pagani Zonda, Bugatti Veyron, several Porsche 911s and Ferrari's.
For a team of two people and their vehicle, the € 1,300 entry fee (€ 600 deposit on entering and the balance of € 700 payable at the start of the rallye) includes the following: logistical organisation, the regularity tests, one night + breakfast in a room for two people, three meals with drinks from the lunch-snacks of June 12th to the lunch-buffet on June 13th, insurance, rallye equipment (door numbers and road-book etc.), car park guards, luggage transportation, mechanical assistance and towing assistance.
For more information or questions on the Rallye Germania, feel free to contact us or check out the official website. A brochure can be downloaded here!