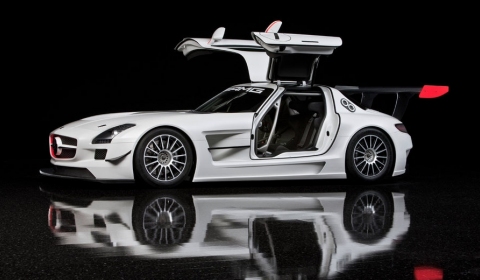 You remember the Mercedes SLS GT3 racer? The one that was unveiled in New York some weeks ago. The racing car is expected to share its body shape with the upcoming extreme version of the road-legal SLS AMG. According to Autocar, the development of the new Black Series has already started.
The extreme sports coupé will complement the current SLS and a roofless version to be unveiled. It will go into production in 2013 and joins the exclusive range of Mercedes-Benz performance cars wearing the AMG Black Series badge.
At the heart of the rumoured Gullwing is a reworked version of the SLS's M159 engine. The standard 6.2 liter V8 produces 563bhp and 479lb-ft of torque. The SLS AMG Black Series will reach beyond 600bhp and 500lb-ft due to the implementation of a larger air manifold, higher compression ratio, reprofiled camshafts and other unspecified tweaks.
Together with some aerodynamic tweaks and a 50kg reduction in kerb weight, Mercedes will change the 0-100km/h (62mph) time down from the standard car's claimed 3.8sec to under 3.5sec, while raising the top speed from 195mph to 208mph.
Stay tuned for more on this special version!