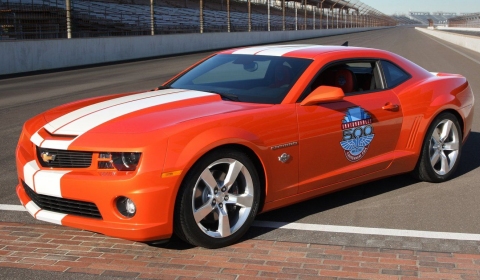 It is the first time since 1993 that Chevrolet will build and sell a replica of a Camaro Indianapolis 500 Pace Car. The limited edition replica includes all the features found on a regular production Camaro SS, but adds some additional features unique to the actual pace car to be driven by Robin Roberts during the this year's Indianapolis 500.
Based on a Camaro SS model with an RS appearance package, the replica includes a 400hp 6.2 liter V8 engine linked to a six-speed automatic transmission with remote start, 20 inch polished aluminum wheels, full body White Pearl decal rally stripes, Inferno Orange heritage front grille, Inferno Orange engine cover, floor mats with accent colors, 2010 Indianapolis 500 event logo decal on both doors and embroidered on driver and passenger headrests and 2010 Indianapolis 500 event logo badges on front fenders.
Up to 200 pace car replicas will be made available through 187 of the Camaro dealers. The MSRP is $ 41,950.