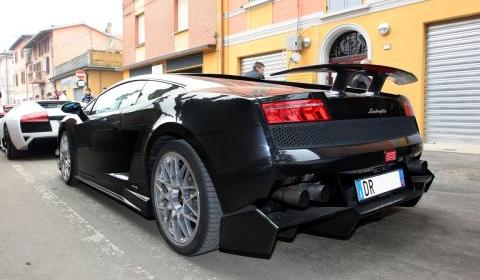 Italy is home to the nicest supercars but also to the best supercar events. About a week ago we showed you the first video and pictures of the Motori & Sapori event in Castelfranco Emilia, near Modena.
The topic showed you some nice Ferrari's and Maserati's but this time our member italiansupercar is back with an update on Lamborghini.
Only a small group of ten cars was present. A yellow Countach, a modified LP 560-4 with a Gallardo Trofeo exhaust and body kit and a white Murcìelago SV were on display. Nex to those there was a special Italian supercar called the Filandi Uragano showing its definitive form, painted in a nice yellow color.
Last but not least there was also a Pagani Zonda F in a lovely carbon fibre/orange color combo present at the event.