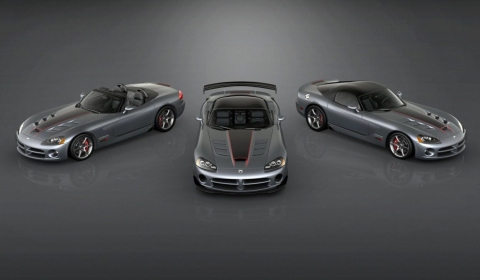 To celebrate the final year of production for the current Dodge Viper, the US car maker has started building a production run of 50 limited 2010 Viper SRT10 "Final Edition" models. Available in Coupe, Roadster and ACR (American Club Racer) configurations, each Final Edition Viper exterior features a Graphite Clear Coat body with a painted black center stripe traced in red and unique side sill badges. Viper Coupe and ACR Final Edition models will also include a black windshield surround.
The black interior features custom red accent stitching, red painted halo surrounds on the gauge cluster and stainless steel screws in center stack bezel. A numbered dash plaque (1-50) is located on the shifter bezel just above the Viper Final Edition floor mats.
All Viper Final Edition Coupe and Roadster models will wear six-spoke wheels painted in Anthracite, while ACR models will come with five-spoke Sidewinder wheels in black.
The 8.4-liter V10 engine stays the heart of the 2010 Dodge Viper SRT10 with 600hp (450kW) and 560lb.-ft. (760Nm) of torque. The performance figures are 0-60mph in less than four seconds, quarter-mile time in the mid 11-second range, 0-100-0mph in 11 seconds flat and a top speed of 202mph.
Production of the Final Edition models is scheduled to begin in the early summer.