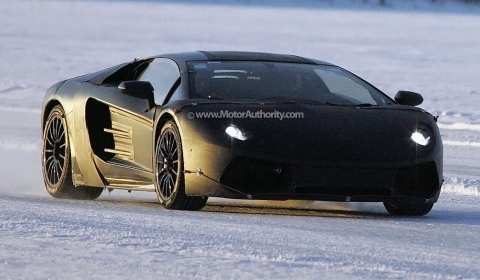 The Romanian website Automarket.ro has unveiled more information about the upcoming replacement for the Lamborghini Murciélago. The next generation 2011 Lamborghini Murciélago has been discussed before and named under the development name Jota.
The new version is rumoured to have a top speed of 360km/h (225mph). The vehicle uses a 7.0 liter V12 engine developing between 700 and 720hp connected to a four-wheel drive system and seven-speed double-clutch transmission.
The Italian manufacturer will focus on a lower mass than the current version improving the power to weight ratio to 0.46hp/kg. Sprint times from 0 to 100km/h are estimated under 3 seconds.
The interior will be trimmed in carbon and Alcantara. It will include a hi-tech satellite navigation system and a jet-style head-up display.
Rumours also suggest an official debut at the Paris Motor Show 2010 in October.
Stay tuned for more!