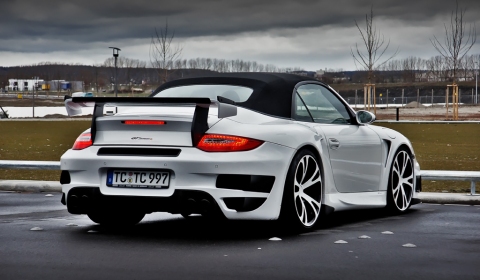 Based on the Porsche 997 Turbo, the TechArt GT Street R is one of the most exclusive tuned Porsche's available. The German Convertible shown on the picture above has a Carrara white livery, body kit and white TechArt Formula rims.
The 911 Turbo Cabriolet uses a 3.6 liter flat six with 95kW (130hp) up to 485kW (660bhp) and 160Nm of torque. The maximum torque of 860Nm is developed at 4,600rpm. The GTstreet R with Tiptronic S accelerates from 0 to 100km/h in just 3.4 seconds and with the manual transmission – shown here – it only takes a tenth of a second longer. The top speed tops out at 345km/h.
We drove a similar vehicle at TechArt in Leonberg last summer.
Hi-res pictures can be found here!
Credits to Kai Kalibor at GermanExotics.