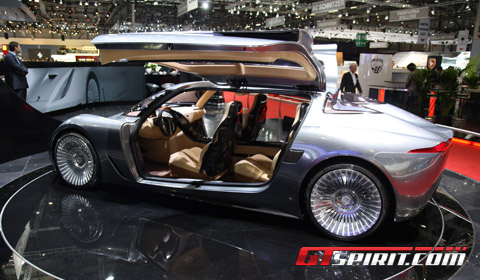 Last year Koenigsegg displayed a new 4-seater electrical car concept, this year the Quant is back this time at the stand of NLV Solar, the company that will further develop the NLV Quant. The NLV Quant has a full carbon chassis and carbon body and four electric motors producing 200hp each. The four engines are placed one-per-wheel resulting in staggering possible acceleration figures, 0-100km/h in 2.8 seconds, and torque vectoring for increased stability and agility.
The NLV Quant will use the latest in electrical and solar technology, like two different battery systems placed in the center of the car with a low center of gravity. The exterior of the car is covered in thin film of pyrite that converts sunlight into energy that supplies power to the operating electronics and the battery. According to NLV Solar the concept can be turned into reality over the next 12 months and be ready for production.
The impressive specs of 800hp, 0-100km/h in 2.8 seconds and 377km/h top speed, a weight of only 1680kg and the use of alternative energy sources make it one of the most exciting concepts of the Geneva Motor Show this year.