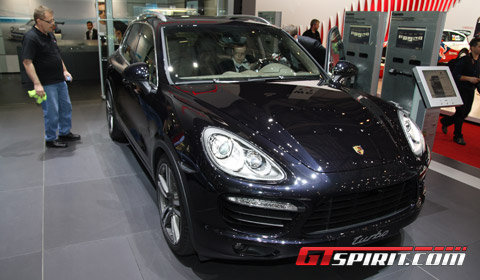 The new Porsche Cayenne will be vital for the future of Porsche, will it be such a big success as the first generation Cayenne? We will focus on the most potent Cayenne displayed in Geneva: the Porsche Cayenne Turbo. Powered by a 4.8 liter V8 bi-turbo the new Cayenne Turbo has a maximum output of 500hp, exactly the same as the previous generation Cayenne Turbo. The new Cayenne Turbo however is lighter and much more fuel efficient than before. The new Cayenne Turbo accelerates from 0-100km/h in 4.7 seconds and has a top speed of 278km/h. Not bad for a car that still weighs 2170kg.
The lower weight and fuel consumption are achieved by Porsche's new eight-speed Tiptronic S gearbox with Auto Start Stop system and change in the overall concept of the Cayenne paired with the use of light weight materials. Another vital part of the Cayenne that has been redeveloped is the all-wheel drive system.
The exterior of the new Porsche Cayenne Turbo builds on the first generation Cayenne's, the front-end looks more aggressive while the rear is rounder than its predecessors. The question remains, will it be enough to continue the Cayenne success story and break with the negative public opinion about big SUV's?