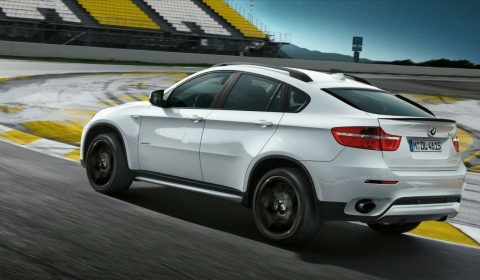 German manufacturer BMW will introduce a set of BMW Performance upgrades for the X6 at the Geneva Auto Salon. The range of retrofittable options is specially developed for the drivetrain, suspension, aerodynamics and cockpit of the Sports Activity Coupé. They are added next to the standard set of accessories.
The BMW Performance Aerodynamics Kit is made up of the front bumper, side-sills and an insert for the rear bumper, all in special design and all finished in body colour. Also available is a rear spoiler, rear fins in matt black and a front grid finished in high-gloss black paint.
BMW is also offering 21-inch Y-spoke light alloy wheels. A special production method reduces the weight of each wheel by approximately 1,500 grams compared with conventional wheels of the same size. The BMW Performance light-alloy wheels come on tyres varying in size from front to rear and featuring runflat specification. Rim dimensions are 10J x 21 at the front on 285/35 R21 tyres and 11.5J x 21 on 325/30 R21 tyres at the rear.
X6 owners can choose from a set of performance upgrades for vehicles with either the petrol straight-six or V8 engines. Maximum output of the eight-cylinder is 30kW/41hp to 330kW/448hp. Peak torque, in turn, is up by 50Nm/37lb-ft to 650Nm/479lb-ft. The six-cylinder gets an increase of 15kW/20hp to 240kW/326hp, with peak torque increasing by 50 to 450Nm/332lb-ft. both models accelerate 0.2 seconds faster from a standstill to 100km/h, the BMW X6 xDrive50i with the BMW Performance Power Kit completing this sprint in 5.2 seconds, the BMW X6 xDrive35i in 6.5 seconds. Acceleration in gears from 80 – 120km/h (50 – 75mph) is 0.5 seconds faster in each model.
Other options available are a sport exhaust with chrome-plated tailpipes, flat-bottomed steering wheel in Alcantara, aluminum pedals and driver's footrest.
BMW Performance accessories and features are available from June 2010.