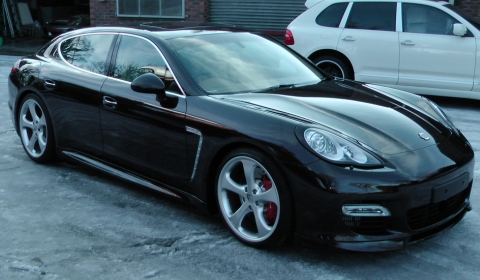 UK TechArt importer, Tech 9 Motorsport, has placed the first TechArt Panamera on the UK roads! Tech 9 enhanced the Porsche Panamera Turbo by adding TechArt styling additions, such as the three-part front spoiler I , side skirts, roof spoiler, rear diffusor and headlamp covers. The dual oval tailpipes are made of stainless steel. TechArt also supplied their 21 inch Formula Wheels and tyres.
The most special refinement is the new paintjob in mahogany metallic. Tech 9 Motorsport stated:
Interestingly, we specced the car in mahogany metallic, which looks super cool in the flesh, looks black from a distance, then when you get closer, you realise it is brown. This colour really works on a Panamera.
More information on this package please contact Tech 9 Motorsport in the UK or German tuner TechArt.