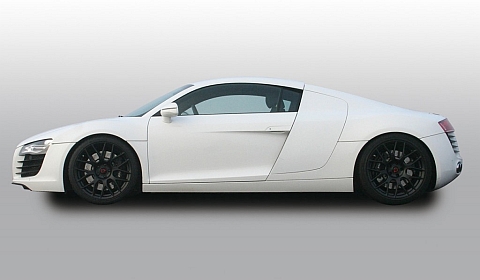 We've seen a couple of Cargraphic designs recently, most notably, their Corvette ZO6 and their Porsche Cayenne. Today we received pictures of a R8 they prepared with a new airlift suspension system and subtle bodykit. No power increases to report but hopefully the mix of practical additions should create a more balanced driving experience.
The white-on-white donor car hides the new airlift suspension unit that can elevate the front end by 72mm in just 15 seconds. The practical application here is that your front spoiler raises high enough to stop any damage to either the front spoiler or the suspension parts. At speeds above 50km/h, the car will automatically lower using its system of air bellows and a separate compressor.
The whole unit is TÜV certified and doesn't restrict the owner to a specific choice of tyres.
Elsewhere, there's a choice of 19 inch or 20 inch lightweight alloy wheels. A Cargraphic stainless steel exhaust setup is also fitted to this car. Cargraphic offers a number of body options including the spoiler seen in a couple of the pictures.
[Via TopSpeed]