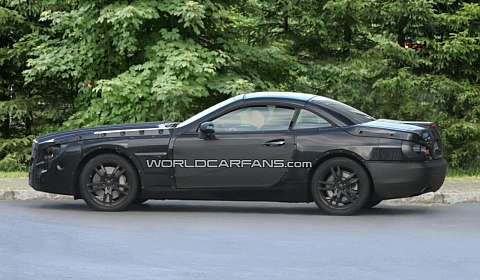 Another set of spyshots we've accidental let slip through are these Mercedes SL-Class shots. The photos show a heavily camouflage test mule, most likely hiding a new, SLS inspired, shape for the 2013 SL-Class. A lower ride and a wider body make this SL look more of a progression than the current SL range.
In our eyes, the current SL hasn't reached the levels of popularity that the previous version which makes the 2013 car an important one for Mercedes. As we've already highlighted, the lower ride height and wider body, coupled with lower weight provide the perfect combination for a back-to-basics performance car.
Other details include LED lights at the front and rear with xenon/bi-xenon headlights with corner illumination technology.
As you would expect, the interior will mimic closely the new SLS. Comforts such as USB-connections an Bluetooth ensure things like MP3 players, iPods and Mobiles will connect to the car with ease. A seven-speed dual clutch gearbox will provide seamless gear changes.
Engines will probably include a variant of the 5.5 litre V8 with 387bhp and the 4.0 litre twin turbo V8 currently rated at 544bhp.
[Via WorldCarFans]