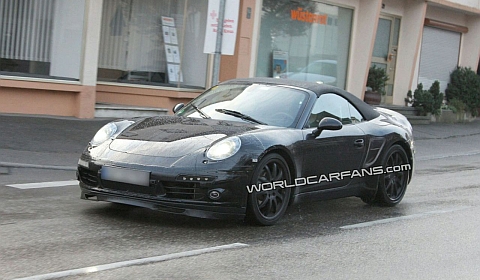 Were not sure how we let these pictures slip off our radar but somehow, we did. They show the 2011 Porsche 991 Cabriolet testing with a little less camouflage than we've seen before. Whilst the rear still wears it's normal camo, we can see some of the new 911's design aspects.
We suspect the camo to be hiding a re-designed adjustable rear wing. However, we can now talk about the subtly re-designed headlights that are obvious from the pictures. As well as this, there's the obvious day time running lights and the new design lines that appear to make the car lower and longer.
We can't wait to see the new car when it finally appears at one of the big motorshows. As for the engines it will feature, we expect the line-up to be to same with power increases to be the notable differences. We expect the turbo to feature around 530bhp and the GT2 to feature a more potent 570bhp. As is the case currently, we expect the 991 to feature four-wheel drive and a choice of a six-speed manual or a seven-speed PDK gearbox.
[Via WorldCarFans]