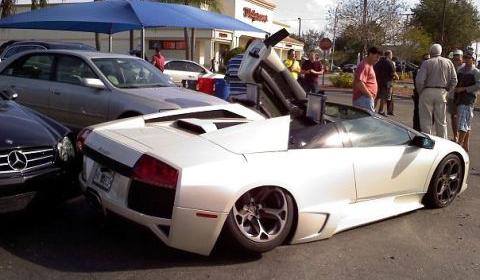 We don't know what exactly is happening, but sadly enough we have to report another Lamborghini Murciélago LP640 crash, happened yesterday. This time it's a balloon white roadster that was totalled in Sarasota, Florida, USA.
The LP640 was ripping from the middle lane into the slow lane to pass a car. The middle car jerked to the right lane cutting off the white Lamborghini causing it to lock up its wheels and slide into a nearby car wash, proving yet again that even the superb engineering of Lamborghini will not make you invincible from traffic accidents.
A worker at a local car wash and eye witness, Sean Murdoch reported:
I almost got kia today at work on 41 stickney point car wash, the white ghost Lamborghini the one that's always hauling ass everywhere crashed into the Audi I was inside of at about 45 mph. The uking idiot almost killed three of us on the exit of the car wash, took out a 20 foot street lamp that did a complete 360 flip, and drifted 12 o'clock into the Audi suv, and hit two other cars, a Toyota Camry and a black Mercedes. The guy got outta the car crying and bleeding out of his forehead "no seat belt" and passed out on the side of a car, the empt's were literally there in one minute and took him away. The owner of the car ripped up in an AMG Mercedes and ran up to the car, checking it out. Judging by the sound the Lamborghini was in 2nd gear when it locked up.
[Via L4P]