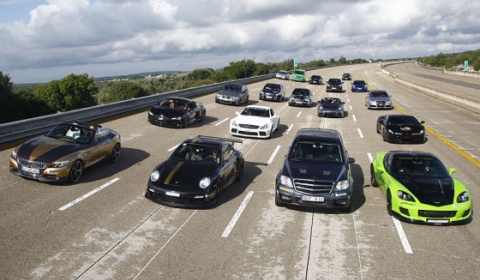 Continental and German magazine Auto Bild Sportcars have tested 18 high performance models during their yearly Nardo High Performance Event. Together, a total of 11,135 horsepower competed to smash all records. 13 Tuners were competing in edition 2009.
Speeds up to 250km/h or 155mph are quite easy to reach for a decent supercar or tuned sports car. But beyond 250/155, key factors come into play. Not only do you need enough engine power, but the wind resistance picks up rapidly and vehicle weight is playing a vital role on the asphalt friction. All vehicles were fitted with Conti tires during the event.
New records were set for fastest Van – of course the TH2 RS -, fastest Combi, fastest Corvette, fastest cabriolet, fastest vehicle running on gas, fastest SUV and fastest Mercedes. Oh wait and they also set a record for the fastest Opel or Vauxhall (for UK readers).
In the list below you will find all figures. You will spot the brand new Panamera from Edo Competition and 9ff, but also the MKB SL 65 Black Series with its 1250Nm torque. The fastest car at Nardo 2009 was the 9ff TR 1000 with a top speed of 376km/h (233mph).
9ff Panamera PT 55 – 308km/h – 191mph
9ff Speed9 – 650hp – 288kmh/h – 179mph
9ff TR 1000 – 376km/h – 233mph
ABT Audi RS6 – 700hp – 335km/h – 208mph
ABT Audi R8 – 560hp – 314km/h – 195mph
AC Schnitzer ACS3 3.5d – 310hp – 700Nm – 516lb.ft. – 289km/h – 179mph
AC Schnitzer ACS4 3.0 – 380hp – 303km/h – 188mph
Brabus GLK V12 – 750hp – 337km/h – 209mph
Edo Competion Gallardo – 600hp – 339.8km/h – 211mph
Edo Competion Panamera – 305km/h – 189mph
GeigerCars Corvette (Twin turbo) – 790hp – 343km/h – 213mph
Hohenester A4 HS 50 G (Twin Turbo V6) – 650hp – 353km/h – 219mph
Lorinser C LV8 – 313km/h – 194mph
Manhart M3 5.0 V10 – 550hp – 317km/h – 197mph
MKB SL 65 Black Series – 751hp – 1250Nm – 921lb.ft. – 330km/h – 205mph
Steinmetz OPC – 395hp – 287km/h – 178mph
Techart Cayenne Turbo S – 680hp – 321km/h – 199mph
TH2 RS – 780hp – 311km/h – 193mph
Video coverages:
Nardo 2009: 9ff TR 1000
Nardo 2009: Techart Cayenne
Nardo 2009: Brabus GLK V12
Nardo 2009: Hohenester A4
Nardo 2009: 9ff Speed9
Nardo 2009: 9ff Panamera
Nardo 2009: 9ff TR 1000 (at night)
Nardo 2009: Handlingsparcours MKB
Nardo 2009: Fahrt im Lorinser C LV8
Nardo 2009: Fahrt im TH2 RS
Nardo 2009: Fahrt im ABT R8
Nardo 2009: Fahrt im ABT RS6